Happy summer! I hope that you enjoyed all that June and early July had to offer…Father's Day, graduations, Fourth of July celebrations and more! With summer in full swing, you may be thinking about vacation plans and relaxing with friends and family. But please don't forget to take care of your health this summer.
While there's never a good time to get sick, it turns out that there are times which are especially bad – namely, any weekend and the entire month of July.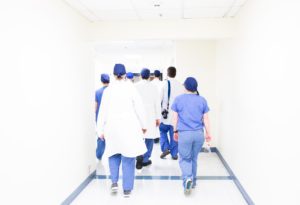 Healthcare veterans all know about the so-called "July Effect." This phenomenon begins every July 1 in the nation's teaching hospitals, where men and women who have just graduated from medical school begin their very first weeks of field training. At the same time, more experienced trainees graduate and move on to even more specialized fellowship training programs or private practice.
With their lack of experience, newly minted doctors are more likely to run unnecessary or duplicative tests, may be unfamiliar with hospital pharmacies and prescribing standards, and are more prone to make medical errors. As a result, studies have shown that the death rate in teaching hospitals is significantly higher in July than other months.
A related phenomenon is the so-called "Weekend Effect." This affects all healthcare settings, including non-teaching hospitals, and is observed all year long. It refers to the fact that many hospitals have fewer expert staff available on weekends and overnight, which coincides with the times when many medical emergencies occur. Numerous studies have shown that patients who visit emergency departments, undergo surgery or experience strokes or other significant episodes on a Saturday are likely to have worse outcomes than patients with similar medical conditions who seek care on other days of the week.
Unfortunately, accidents and illness do not take holidays. While enjoying the summer weather, remember to focus on health and safety to help avoid the need for emergency medical care. Here are a few basic tips to help you stay well:
• Stay hydrated by drinking plenty of water.
• Use sunscreen with an SPF of at least 30, especially if you are out during the warmest part of the day, usually between 11 a.m. and 2 p.m.
• Exercise extra caution around pools and water. Never leave a child unattended around water, even for a few seconds.
• Do not leave children or pets inside parked vehicles, even for a few minutes. The interior of a parked car can become dangerously hot very quickly.
Of course, in a medical emergency, there is not much that you can do to avoid either the July Effect or the Weekend Effect. But there are steps you can take to safeguard your health.
• Avoid scheduling elective surgery or procedures in July. Instead, postpone elective procedures until the fall if it is safe for you to do so.
• Hire a health care advocate. If you must undergo medical treatment over the summer, having an advocate by your side may help ensure that you receive safe, appropriate care.
• If you are unable to hire an advocate, ask a trusted friend or family member to stay with you if you are hospitalized over the summer. Make sure this person writes down the names of all of your medications, tests and procedures and keeps track of the staff who are providing your care.
If you have any questions, give me a call! I'd be happy to talk to you about your healthcare needs or upcoming medical encounters. I can be reached at (516) 584-2007.