Praise for 'The Best in Her Field'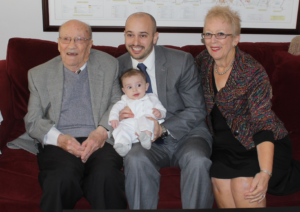 "My husband and I live in Arizona part of the year, and Garden City, near my 100-year-old father, the rest of the time. Nicole got involved, and life calmed down. I needed to find a new Managed Long Term Care provider to another and spent months waiting for an intake interview, only to find that the new agency would only provide aides for eight hours a day, but my Dad needed round-the-clock care.
At the same time, my husband had to have surgery on his foot. He couldn't go up and down the stairs. I could not stay with my father, and I couldn't take care of him in my home.
Then Nicole got involved, and life calmed down. She met my Dad and they hit it off. She got him to see a neurologist, and they found that he had damage to two areas of his brain that influenced his impulse control and decision making. Nicole was able to put in place and coordinate physical therapy at home that helped him do the things he loves.
My Dad has been calmer, easier to get along with. I had never heard of a patient advocate before, but Nicole could be the poster child for it. She is the best in her field."
Help for Dad Just In Time
We had less than one week to prepare for Dad leaving a skilled nursing center and moving 3000 miles into our home.  It was an emotional,  stressful, uncertain, and confusing time.  We knew we needed help and Care Answered was the perfect choice.  Nicole from Care Answered, helped us find new doctors, organize his prescriptions, navigate his insurance, and setup a home health aide.  Nicole was able to help with and explain so many unfamiliar things in a very stressful time.  She setup and attended appointments with us–she helped us to ask questions and to know what questions to ask!
We don't know what we would have done without her expertise, her patience, and her kindness.  Using Care Answered made a difficult transition much more manageable.
I am truly grateful for your help.
Advocate For Our Family
My family engaged Nicole Christensen of Care Answered as an advocate to represent our family in our needs for our 90 year old parents.  We did engage an elder care attorney to complete the massive paper work required to initiate the Medicaid process and enroll them in long term managed health care in their home. We found a balance between the legal representative and Nicole as our advocate to be invaluable. The workings of Medicaid truly require an advocate who is familiar with the inner agency personal, rules and regulations.
We were most pleased with the outcome from this effort. The additional cost for Care Answered, which was all reimbursed by the Trust set up for our parents, was negligible within the total cost of this process to our family.
Examples of assistance in the past months: Care Answered acted as a liaison for us at DSS, MLTCs and potential home care agencies, reviewed homecare options, Medicaid reimbursements, gathered and sent documentations necessary for Medicaid recertification.
Diane- Suffolk County, NY