Think vaccines are only for kids? Think again. The development of vaccines revolutionized preventive medical care and virtually eradicated disease like smallpox and polio. And they remain an important part of the preventive health regimen for adults as well as children.
Which vaccines do you need as an adult? The answer will be influenced by your age, underlying medical conditions, risk factors, travel plans and the environment in which you live and work. Here is a rundown of some of the vaccines that are commonly recommended for adults:
Influenza (Flu Shot)
Generally, everyone over the age of 6 months should receive a flu vaccine annually. The best time to receive your flu shot is before flu becomes prevalent in your area, usually in the early fall. However, it is not too late to get a flu shot for this year. And it is important to do so; last year, the flu was responsible for 80,000 deaths in America, and it has already killed 13 children in the US this year. A flu shot will help protect you and those you love.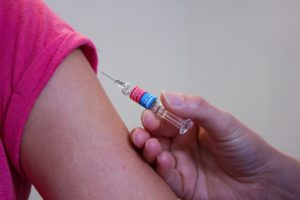 Pneumococcal vaccine
The pneumococcal vaccine can help prevent serious infections in the lungs, blood or brain. The vaccine is recommended for those over 65, as well as individuals with chronic health conditions such as heart disease, cancer, lung disease, kidney disease, liver disease, diabetes or sickle cell anemia.
Tetanus or Tdap
A tetanus booster is required every 10 years. Tetanus is a serious illness that leads to severe muscle contractions. It is also known as lockjaw. It is preventable in individuals who are up-to-date on their vaccines but can occur in unvaccinated people. The bacteria typically enter the body through a wound.
Those who have not received the Tdap vaccine as children should consider getting the Tdap booster, which protects against tetanus, diphtheria and pertussis, also known as whooping cough, which is making a resurgence in children and adults.
Shingles
If you have ever had shingles, or know someone who has, you know how agonizing the condition can be. Caused by the same virus that causes chicken pox, shingles results in a painful blistering rash that often wraps around the torso. The shingles vaccine is recommended for adults 50 and over, including those who have already had shingles.
If you plan to travel internationally
If foreign travel is in your future, you should speak to your doctor about which vaccines are recommended for the areas you plan to visit. Hepatitis A, Hepatitis B, and the meningococcal vaccine may be among those recommended for you.
Live in a Nursing Home?
If you live or work in a nursing home, or work with patients in a doctor's office or hospital, you may need to receive the measles-mumps-rubella vaccine, especially if you were born after 1957 and do not show signs of immunity in a blood test.
Some exceptions
For every rule, there is an exception. Your general health, lifestyle and the presence of any underlying medical conditions might preclude you from receiving certain vaccines or require you to receive others. It is important to have an open conversation with your doctor or healthcare provider about which vaccines are appropriate for your specific situation.
Learn more
The Centers for Disease Control and Prevention (CDC) offers an interactive quiz to determine which vaccines you may need. https://www2.cdc.gov/nip/adultimmsched/
The National Foundation for Infectious Diseases offers an infographic explaining common adult vaccines. http://www.adultvaccination.org/what-vaccines
Worth a shot
Nobody likes getting shots; it brings back childhood anxieties and phobias for many. But when you consider the benefit of avoiding painful, debilitating illness, getting your recommended vaccines is worth a shot.