This month I had to renew my license and once again checked off the box for organ donor.  What a sense of accomplishment with such little effort!  Will you join me?
The Need
About 114,000 Americans – roughly the population of Ann Arbor, Michigan – are awaiting a life-saving organ transplant. Every day, 20 people on that list die waiting, while another person is added every ten minutes.
Deciding to become an organ donor is a simple process that requires registration with your state. In New York, you can easily register to become an organ donor when you renew your license or non-driver identification card with the Department of Motor Vehicles (DMV). While New York is home to 10 percent of all Americans awaiting an organ donation, the state lags the national average for organ donors, with only 29% of eligible adults enrolled in the registry compared to 51% who have registered nationwide.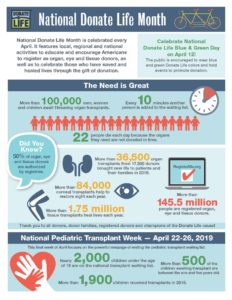 Anyone aged 16 and over can join the New York State Organ Donor Registry, and there is no upper age limit for potential donors. In fact, the oldest organ donor in the U.S. was 93. Donor suitability is based solely on the donor's medical condition and history. Organs that may be donated to help save a life include the heart, lungs, kidneys, liver, and intestines. Corneas may be donated to help restore sight. Tissue donation may be used to replace bone, cartilage and ligaments damaged by disease or injury.
One single organ donor can save up to eight lives and benefit 75 other patients who are in need of donor tissue.
Overcoming Objections
There are many reasons why people shy away from enrolling in the donor registry. Some worry that being an organ donor is against their religion. In reality, all major faiths support organ donation. You can read more about your faith's position on organ donation here.
Others may be concerned that organ donation will disfigure the body or preclude an open casket funeral service. This is not the case; organ donors may still have an open casket as there is no visible evidence of organ donation on the donor's body.
Some people question whether their decision to donate organs will impact on their medical care at the end of life. This is not an issue. The organ donor team and the medical treatment team are separate. Every effort is made to save the life of the organ donor. Only when those efforts have been exhausted is the organ donation team notified of the potential availability of organs for a recipient on the waiting list.
April is National Donate Life Month, an annual campaign designed to increase awareness of the dire need for organ donors and to dispel myths surrounding organ donation. As Spring makes a return across our region, it's natural to think about rebirth and new life. Why not take a moment this month to help another person by making the ultimate gift of life: become an organ donor.
Learn more about becoming an organ donor in New York State.