Earlier this month, I had the opportunity to participate as a panelist in a discussion on diversity, women's issues, and entrepreneurship. The panel was part of a Women's History Month presentation to the Health & Business Alliance, a trade and networking group to which I belong. My co-panelists, Lauren Tanen and Susan Ganz, each brought their own unique perspective on the challenges that confront many women as well as people of color as they navigate their workplaces, healthcare and educational institutions, and other parts of their lives.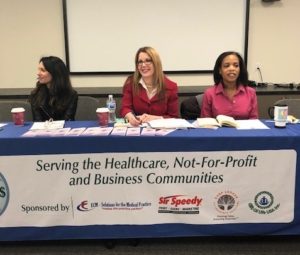 My own contribution to the panel centered on healthcare disparities. African Americans have a 40% greater risk than whites of getting high blood pressure, which can lead to heart disease, heart failure, kidney disease and stroke. African Americans are also twice as likely as whites to be diabetic, which leads to a host of serious medical complications.
Last year, the New York Times ran a feature report called "Why America's Black Mothers and Babies are in a Life-and-Death Crisis." In an article full of shocking statistics, this one stands out: Black infants in America are more than twice as likely to die as white infants. But what's even more shocking is the fact that this disparity has actually increased in the past century and a half, since statistics like this were first recorded in 1850, 15 years before the end of slavery.
And these disparities extend to other minority groups as well. The Centers for Disease Control (CDC) reports that compared to whites, Hispanics are about 50% more likely to die of diabetes or liver disease.
These ongoing inequities are part of what drives me to continue my professional quest as a healthcare advocate. A significant part of what I do is to advocate for patients, whoever they are, whenever and wherever they interact with the healthcare system.
It is essential that every person fully understands the information presented by medical professionals and is able to carry out the doctors' recommendations. Our American healthcare system is complex, involving interactions with insurance companies, government payers, employers, healthcare providers, pharmacies, medical device companies, long term care providers, assisted living centers, rehabilitation facilities, home care agencies, and more. I specialize in helping clients cut through the clutter so that they are armed with clear, understandable information and are empowered to make the healthcare decisions that are best for them and their families.
I'd love to hear about your experiences. Whether you are a man or a woman, member of a minority group or not, what has it been like for you when dealing with a doctor, hospital, school, workplace, government agency or other institution? Did you feel heard, respected, and understood, or marginalized? By sharing our stories, as I and my fellow panelists did, and speaking up for one another, I believe we will begin to make a much needed change.