Hold the Date for our next webinar: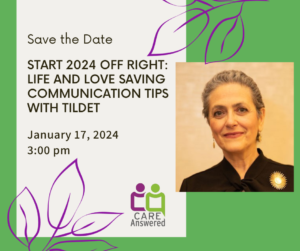 Watch the replay of our most recent webinars:
Planning to Age Well

Aging well requires planning ahead. What do you want your life to look like in your golden years? Our panel of experts will help you define your goals for the future and create a roadmap to get there.
Watch Now
2023 Medicare Open Enrollment Panel Discussion

Knowing your options and choosing the right Medicare plan for you can save you money. Tune in to hear our panel of Medicare mavens as they help you untangle the web of choices and make a selection that meets your needs.
Watch Now
Planning Ahead to Avoid a Crisis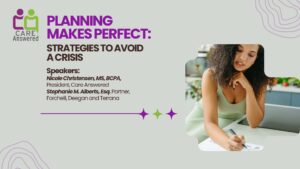 The best way to manage a crisis is avoid it. Planning ahead can feel overwhelming, but a little planning can go a long way! Learn our strategies and tips to mitigate your risk of a crisis through thoughtful planning.
In this presentation, Nicole Christensen, MS, BCPA, President, Care Answered, and Stephanie M. Alberts, Esq., Partner, Forchelli, Deegan and Terrana, walk you through steps necessary to have a solid plan in place.
NYS Community Medicaid Update

Learn the latest financial and care provision updates.
Watch Now
Brain Health: How to Care for It and Keep It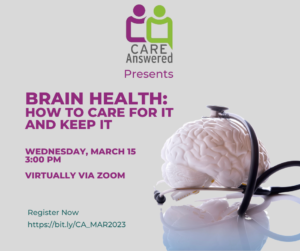 Watch Now
New Gadgets and Services to Make Life Better
A free webinar featuring the latest tech and tools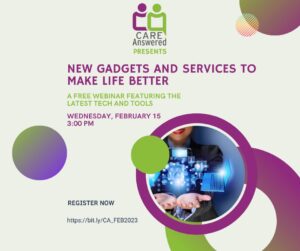 Watch Now
Start the New Year Off Well
A Free Webinar featuring tips & life hacks to supercharge your year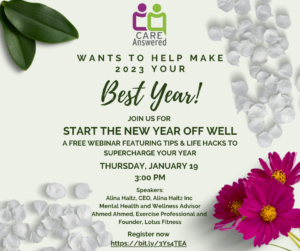 Watch Now
NYS Community Medicaid Update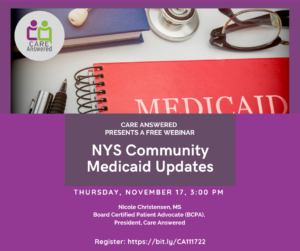 If you know someone who is planning to apply for NYS Community Medicaid in the near future, you can't afford to miss this webinar.
Watch Now
Medicare Panel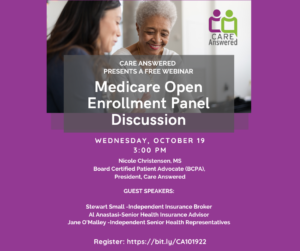 Open enrollment is just around the corner. Learn the ins and outs of Medicare with our expert panel
Your Greatest Assets: Protect Your Money, Home and Health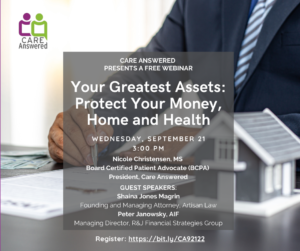 Learn to protect yourself from deed fraud, safeguard your finances and overcome medical debt from a panel of experts including Shaina Jones Magrone, Founding and Managing Attorney of Artisan Law; Peter Janowsky, AIF, Managing Director of R&J Financial Strategies Group; and Nicole Christensen, MS, BCPA, President, Care Answered.
A Digital Twist on Advance Care Planning

Making your wishes known to your loved ones, placing important documents in one easily accessible place, and making sure that your plans for your care are followed, even in the event that you are unable to make them known yourself has never been easier. Our free webinar will walk you through the steps of digitizing your advance care planning documents to make it easy for yourself and your loved ones.
Speakers: Nicole Christensen, MS, Board Certified Patient Advocate, President, Care Answered
Wendy Weiss, Technology Consultant, TechTime = Making Technology Simple
Scams and How to Avoid Them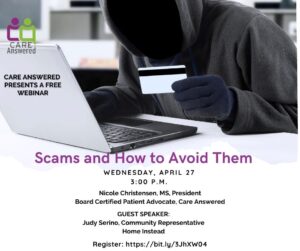 Scammers seem to be everywhere these days, and their tactics are becoming increasingly sophisticated.  Learn how to avoid becoming a victim at our next free webinar.
Speakers: Nicole Christensen, BCPA, President, Care Answered, and Judy Serino, Community Representative, Home Instead
Handouts from the webinar:
Fraud Prevention HANDOUTS      Scams- Spot fake texts
Watch Now
Latest Medicaid Update for 2022

NYS Medicaid has implemented a number of significant changes for 2022 – changes that will impact those already on Medicaid as well as those planning to apply for Medicaid to help with long-term care needs. Get the latest information at our free webinar featuring Nicole Christensen, BCPA, President, Care Answered & Anne Dello-Iacono, Esq, Founding Partner, The Dello-Iacono Law Group
Tips for Managing the Financial and Emotional Toll of Caregiving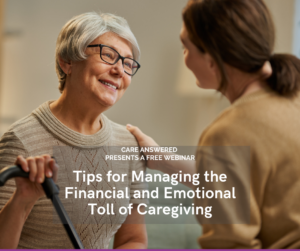 Caregiving, while rewarding, can present many challenges. In addition to the financial burden, there is an emotional toll that can often impact on our closest relationships. Join Nicole Christensen, BCPA, President of Care Answered, and her guest speakers, Liz Vaz, Collaborative Divorce and Family Mediation, Moxxie Network East End Director, Founder of the Long Island Collaborative Divorce Professionals; and Theresa Steinkamp, CPA, Cornerstone Wealth Advisory, Strategies for Wealth, for an insightful discussion of strategies for navigating this journey.
Know Your Rights as a Patient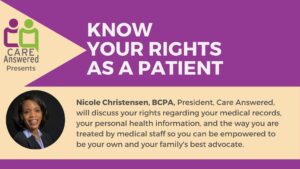 Between physicians, technologists, front office staff, insurance companies, billing departments, Medicare, Medicaid, pharmacy benefits managers, hospitals, rehab facilities, and the many other people you encounter as a patient, it can be challenging to find your own voice and to feel confident in speaking up for yourself. That's why this webinar may be the most vital educational session you will attend. Nicole Christensen, BCPA, President, Care Answered, walks you through your rights as a patient and empowers you to be a well-informed advocate for yourself and your loved ones.
Medicare: What You Need to Know Today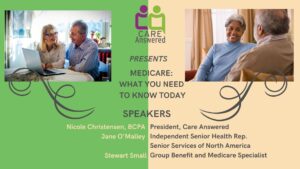 When it comes to Medicare, do you know the difference between Part A, Part B, Part C and Part D? Do you have or need a Medicare Advantage Plan? Do you know when you can sign up for Medicare or change your selections (hint: it's not only during open enrollment). Join Nicole Christensen and her guests, Jane O'Malley and Stewart Small, for an insightful, FREE webinar highlighting all the information you need to make the best decision for you. Pre-registration required.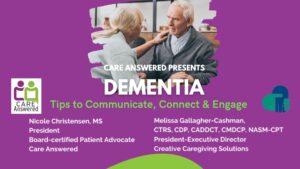 Dementia: Tips to Communicate, Connect & Engage
Connecting in a meaningful way with a dementia patient requires patience, compassion, and a healthy dose of good humor. In this webinar, Nicole Christensen, MS, BCPA, President of Care Answered and Melissa Gallagher-Cashman, CTRS, CDP, CADDCT, CMDCP, NASM-CPT, President-Executive Director of Creative Caregiving Solutions, share tips and techniques for communicating, connecting and engaging with a patient who struggles with memory issues due to Alzheimer's or other dementias.

Safe at Home: Tools & Devices for Aging in Place
Join board-certified patient advocate, Nicole Christensen, BCPA, President of Care Answered, and her guest, certified aging-in-place specialist Kim Kuester, President, C.A.P.S., 101 Mobility, as they dish on the the essential equipment, devices and gadgets that make it safe for older adults to remain in their own homes as they age.
Safe Road Home Part 2
Getting the Care You Need at Home
Learn everything you need to know to ensure that you and your loved ones access the care you need as you continue your recovery after a stay in the hospital or rehab center.
Featuring:
Nicole Christensen, BCPA, President, Care Answered
Maureen Nickel, CSA, Owner, BrightStar Care
Black Health Matters: A Virtual Conversation About Bridging the Healthcare Gap for Black Patients
For decades, Black Americans have been disproportionately affected by chronic and acute diseases. The Covid-19 pandemic has highlighted these disparities. Consider this: Black Americans are three times as likely as white Americans to contract Covid-19, and twice as likely to die of the virus? Join Nicole Christensen for a frank conversation about the history, underlying causes and remedies for healthcare inequity.
The Safe Road Home: Navigating from Hospital to Rehab Center to Home
Covid-19 has changed everything about the inpatient experience. In this webinar, Nicole Christensen, BCPA, President of Care Answered, partners with David Fielding, BCPA, Engage Caring Solutions, to discuss the process of transitioning from an acute care hospital to a rehab center and then back home. What to bring to the hospital, how to select a rehab center, questions to ask, and how to navigate Covid-19 restrictions and guidelines were among the topics covered.
Combating Isolation:
Staving off the Pandemic 
of Loneliness
Our panel of speakers discussed:
Social isolation during the holidays
Psychological and emotional impact of Covid-19 social distancing protocols, especially on the elderly and chronically ill
Facts and tips on fun, healthy ways to socially distance
And more!
Speakers:
Nicole Christensen, BCPA, CEO, Care Answered
Jen Faith Brown RDT, Drama Therapist
Adam Flattau, CSA, Senior Care Authority
Watch Now