Register Now for this Upcoming FREE Webinar:
Dementia: Tips to Communicate, Connect & Engage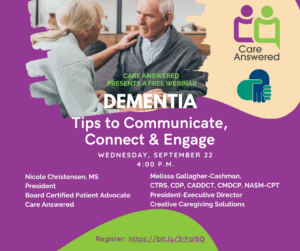 Being a caregiver to a loved one or client with dementia is among the most challenging roles. Yet it can also be rewarding. In this free webinar, learn tips for communicating, connecting and engaging with a patient who struggles with memory issues due to Alzheimer's or other dementias. Join Nicole Christensen, MS, BCPA, President, Care Answered, and her special guest, Melissa Gallagher-Cashman, CTRS, CDP, CADDCT, CMDCP, NASM-CPT,  President-Executive Director,  Creative Caregiving Solutions, for an informative FREE webinar. Appropriate for family caregivers and professionals.
DATE: Wednesday, September 22
TIME: 4:00 – 5:00 p.m.
PLACE: From the comfort of your home or office, via Zoom
Register Now
Watch the replay of our most recent FREE webinars:

Safe at Home: Tools & Devices for Aging in Place
Join board-certified patient advocate, Nicole Christensen, BCPA, President of Care Answered, and her guest, certified aging-in-place specialist Kim Kuester, President, C.A.P.S., 101 Mobility, as they dish on the the essential equipment, devices and gadgets that make it safe for older adults to remain in their own homes as they age.
Safe Road Home Part 2
Getting the Care You Need at Home
Learn everything you need to know to ensure that you and your loved ones access the care you need as you continue your recovery after a stay in the hospital or rehab center.
Featuring:
Nicole Christensen, BCPA, President, Care Answered
Maureen Nickel, CSA, Owner, BrightStar Care
Black Health Matters: A Virtual Conversation About Bridging the Healthcare Gap for Black Patients
For decades, Black Americans have been disproportionately affected by chronic and acute diseases. The Covid-19 pandemic has highlighted these disparities. Consider this: Black Americans are three times as likely as white Americans to contract Covid-19, and twice as likely to die of the virus? Join Nicole Christensen for a frank conversation about the history, underlying causes and remedies for healthcare inequity.
The Safe Road Home: Navigating from Hospital to Rehab Center to Home
Covid-19 has changed everything about the inpatient experience. In this webinar, Nicole Christensen, BCPA, President of Care Answered, partners with David Fielding, BCPA, Engage Caring Solutions, to discuss the process of transitioning from an acute care hospital to a rehab center and then back home. What to bring to the hospital, how to select a rehab center, questions to ask, and how to navigate Covid-19 restrictions and guidelines were among the topics covered.
Combating Isolation:
Staving off the Pandemic 
of Loneliness
Our panel of speakers discussed:
Social isolation during the holidays
Psychological and emotional impact of Covid-19 social distancing protocols, especially on the elderly and chronically ill
Facts and tips on fun, healthy ways to socially distance
And more!
Speakers:
Nicole Christensen, BCPA, CEO, Care Answered
Jen Faith Brown RDT, Drama Therapist
Adam Flattau, CSA, Senior Care Authority
Watch Now