Covid-19 Resources for Older Adults – National Council on Aging
https://www.ncoa.org/ncoa_acf/covid-19-resources-for-older-adults/

Just Say Yes (to eating more fruits & veggies) – Healthy Eating Tips
https://jsyfruitveggies.org/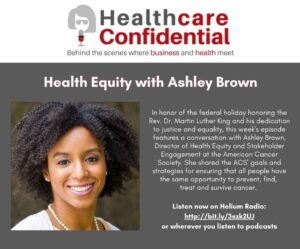 Listen Now: Healthcare Confidential Podcast interviews the American Cancer Society's Ashley Brown, Director of Health Equity and Stakeholder Engagement, on Health Equity and Cancer.
Chronic Pain Coping Skill/Pain Management Study – sponsored by Wilmington University
https://paincoping.com/patient-participation
Arts and Minds – Museum based experiences for people with dementia and their caregivers
https://artsandminds.org/programs/
Long Island Alzheimer's & Dementia Center – Hands-on services that provide respite, support and stimulating programs.
https://www.lidementia.org/
Click Here for a list of community resources.