Medicare Open Enrollment Begins October 15
GuildNet MLTC Closure Update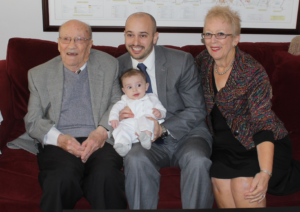 Linda Wangner was in a bind, one that would be familiar to many people struggling to provide care for an elderly loved one while juggling their own lives – living far away, taking care of a spouse with a medical issue, and balancing professional and personal responsibilities.
Linda and her husband live in Arizona part of the year, and Garden City, near her 100-year-old father, the rest of the time. Her father, Michael Pacella, is able to live independently with the help of home health aides. The trouble began a few years ago when she needed to transition from one Managed Long Term Care provider to another. She spent months waiting for an intake interview, only to find that the new agency would only provide aides for eight hours a day, while Mr. Pacella needed round-the-clock care.
At the same time, Linda's husband underwent surgery that left him immobile during his recuperation. Linda was unable to stay with her father, and unable to care for him in her home while she was on Long Island. During their time in Arizona, Linda teaches part time at the state university, serves on the board of several clubs and helps run her development's Homeowner's Association. As the situation in New York deteriorated, she had difficulty carrying out her normal activities due to the stress of constant telephone calls regarding issues with her father's care. Relief aides failed to show up to take care of him. Others would leave him alone during their shifts. The police would be called, and Mr. Pacella would be taken to a hospital and then discharged to a nursing home until home care could be arranged again.
Then Linda met Nicole Christensen, a healthcare advocate and owner of Care Answered. Nicole met Mr. Pacella and the two hit it off. She was able to persuade him to visit the neurologist, and it was found that he suffered from damage to two areas of his brain that influenced his impulse control and decision making. Care Answered was then able to put in place and coordinate physical therapy at home that helped him do the things he loves.
Nicole was able to transition Mr. Pacella's care to a new MLTC and home care providers that Linda describes as "light years better than the other agencies."
As a result, she says, "My Dad has been calmer, easier to get along with."
Linda has recommended Nicole to many others who are dealing with similar issues.
"Nicole got involved, and life calmed down," she says. "I had never heard of a patient advocate before, but Nicole could be the poster child for it. She is the best in her field."