Who are All These People in the Hospital?
A trip to the hospital can be stressful and overwhelming. Adding to the confusion is the parade of medical professionals with different roles and functions. Who should you talk to when you want information, or to voice concerns? Here is a rundown of some of the people you are likely to meet in the hospital: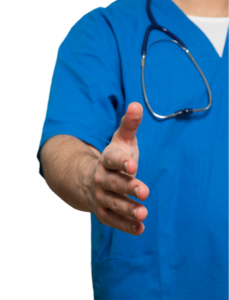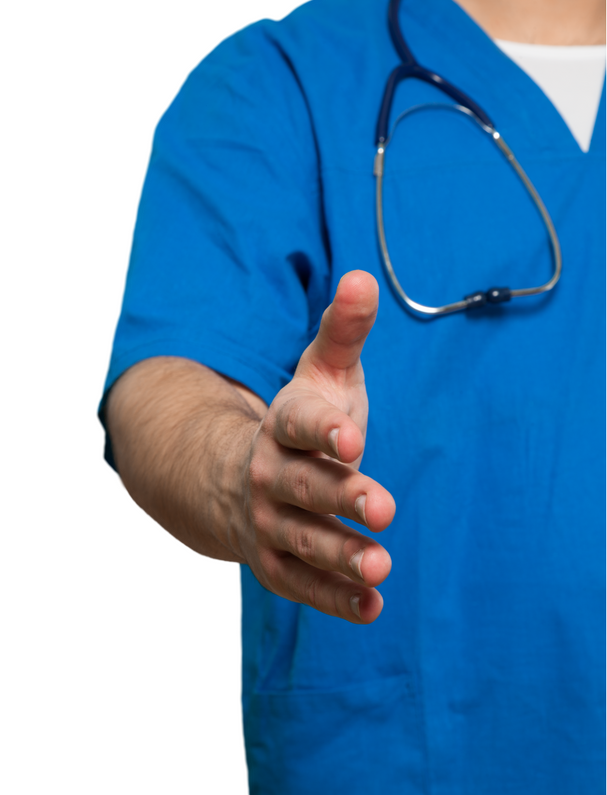 In the Emergency Room

Triage nurse – This is a registered nurse who will perform an initial assessment, learn about the symptoms that have brought you to the hospital, and determine the level of acuity – or how serious – your condition may be. This information will affect how quickly you are seen by the doctor. Patients who arrive after you but who are in more serious condition will be seen sooner.
Emergency physicians – Their primary job functions are to resuscitate or stabilize you and refer you to the next appropriate level of care. They may decide that you require admission to the hospital, or that you may safely be sent home for follow-up with your personal physician, a referral to a specialist, or surgery.
Registered nurses – Nurses will monitor your condition in the emergency room, administer any medication ordered by the doctor, and participate in the care you are receiving. They can answer questions about your condition and your treatment plan.
Technicians – These individuals may draw your blood or perform x-rays, electrocardiograms or other diagnostic testing that has been ordered by the physician.
Aides – Aides can assist you with comfort needs such as providing you with a pillow or blanket. You may also see aides restocking supplies, cleaning the room, or performing other supportive tasks.

In the hospital

Hospitalists – These are physicians whose primary focus is the general medical care of hospitalized patients. They will oversee your care, coordinate with any specialists brought in to evaluate or treat you, prescribe medication, and monitor your condition. They are also responsible for deciding when you may go home and for writing your discharge orders. Because they are based in the hospital, they are often available to provide information on your progress to you or your loved ones.
Registered nurses – The job of the registered nurse is to monitor your condition and to provide the care that has been ordered by the physician. This includes administering medication, checking wounds and changing dressings, helping you with mobility, and making sure that you are making steady progress toward your goals. Nurses can often answer questions about your medications, treatment plan, and progress.
Nurse manager – The nurse manager oversees the nursing staff on a unit. If you are unhappy with your care or wish to discuss any concerns regarding staff or your treatment, you may ask to speak with the nurse manager.
Dietitians – Your diet during your hospital stay is often prescribed by your physician. Dietitians make sure that the food you are provided meets any restrictions necessary to speed your recovery.
Phlebotomists and technicians – You are likely to undergo multiple medical tests during your hospital stay. Phlebotomists will draw your blood and technicians will perform other medical exams.
Social workers and case managers – These individuals are there to assist with non-clinical aspects of your hospitalization. As soon as you are admitted to the hospital, they will begin to work on a plan for your discharge, including any after-care arrangements such as skilled nursing facility, rehabilitation, or durable medical equipment that you may need. They are also available to assist you with financial, social or emotional concerns related to your illness and hospitalization. They can make referrals to resources to assist you with a wide range of issues that may impact on your well-being.
It is important to speak up when you are a patient in the hospital. Do not be afraid to ask questions, make sure that you understand any instructions you are given, as well as any tests being administered and your diagnosis. While the medical team may be busy, it is their responsibility to treat you with respect, tell you their names and job functions, and answer your questions. And it is your responsibility to make sure you have all the information you need, that you provide them with all relevant information about your history and condition, and that you follow their instructions.
Being an active partner in your own healthcare is the best route to recovery.